Screenshots of Loyal Smile in Action
(Please remember that the markings [arrows, boxes, extra/explanatory text, etc.] here are for illustrative purposes only and won't appear in the real use of the extension.)
On Product Pages: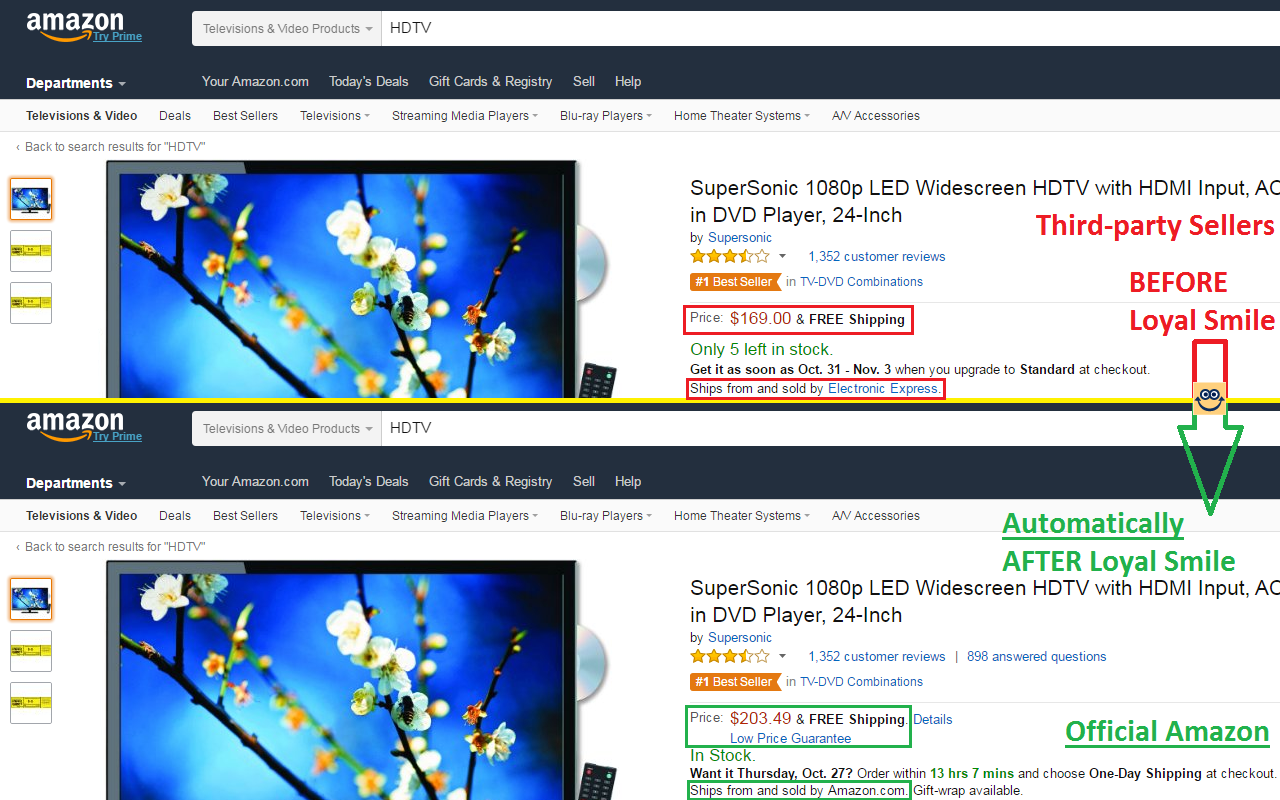 On Search Pages: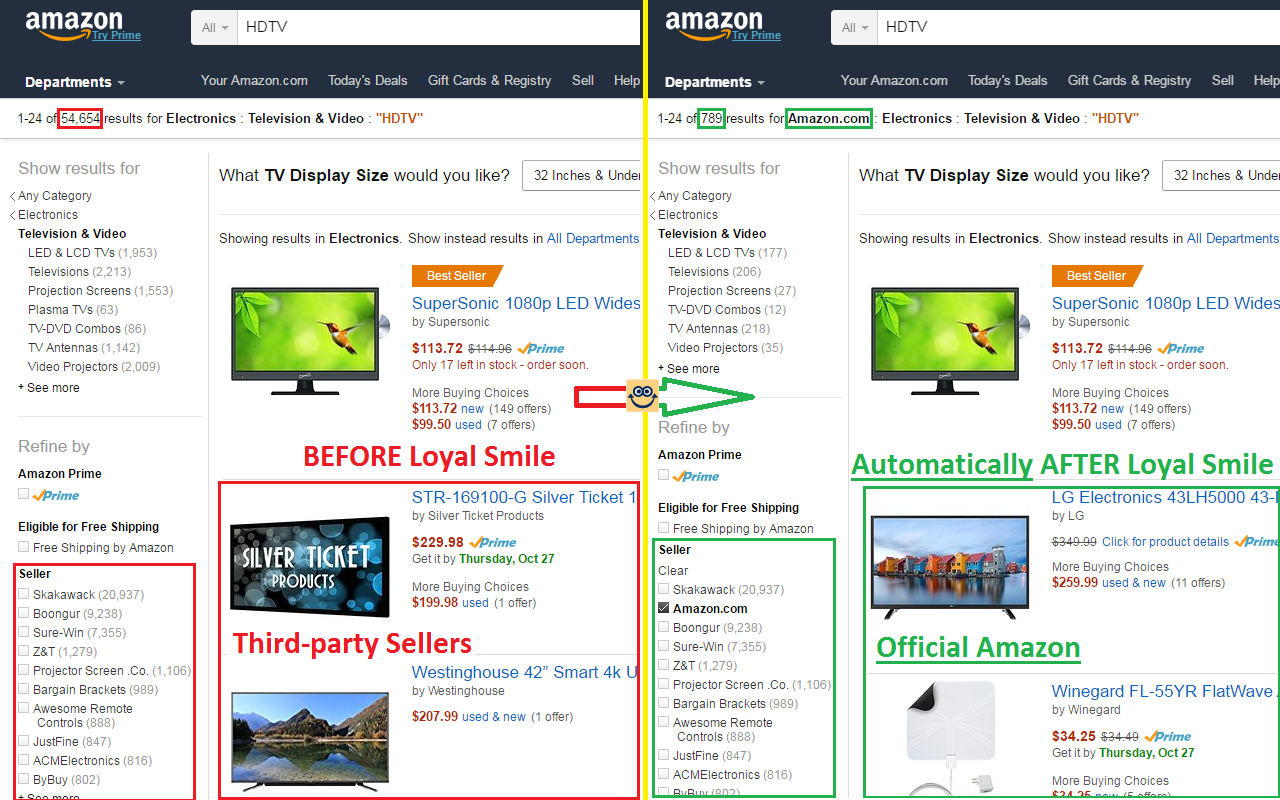 Changed Your Mind? No Problem! Here's How to Disable it & How that Works: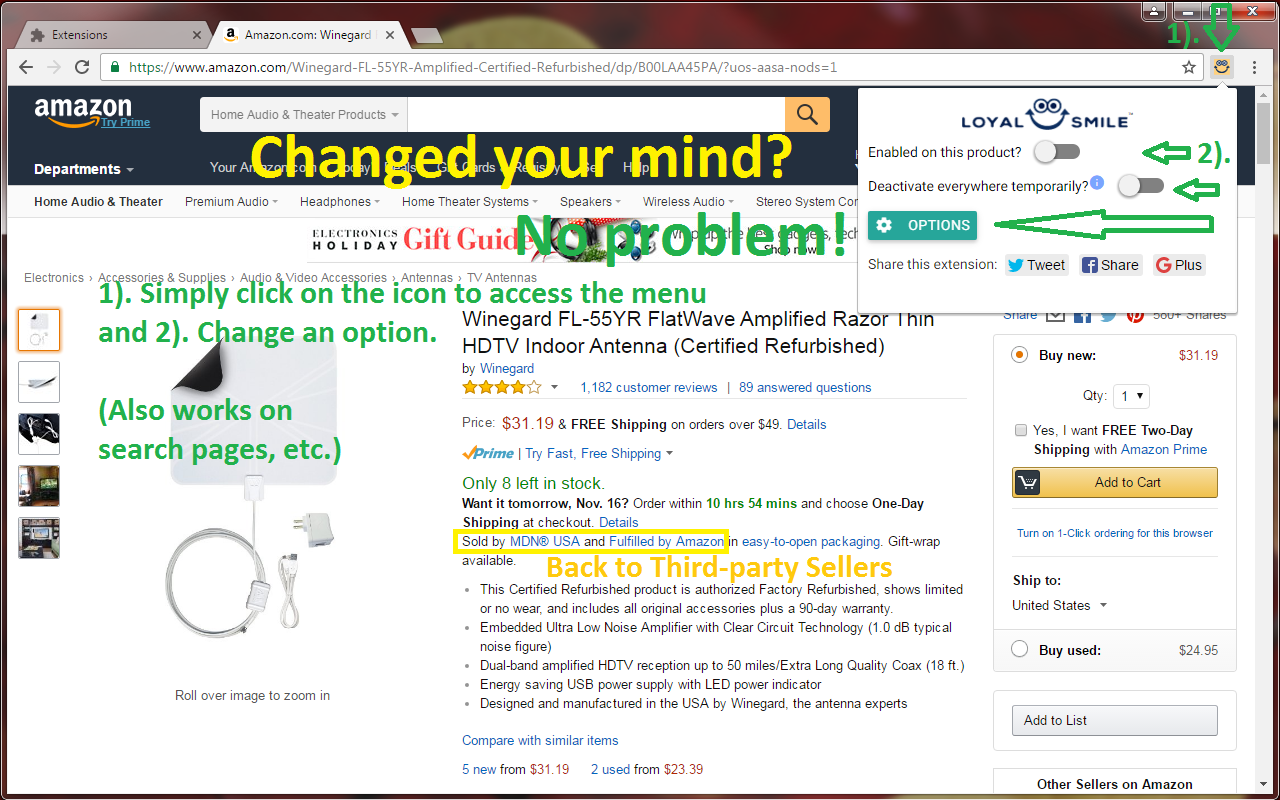 What is it?
Set official Amazon, Inc. as the default seller on Amazon.com. Automate and no more manually switching sellers to Amazon needed.
Do you usually buy products that "Ships from and sold by Amazon.com"? In other words, do you prefer items officially sold by Amazon™ and not third-parties, and you want that to be ensured effortlessly and automatically? Heck, do you even know such a difference actually exists? Do you think everything you can buy from Amazon.com is always directly from the official Amazon (the seller, not just the Website)? (Hint: nope!)

Then, look no further: Loyal Smile™ is your solution!

It automatically selects Amazon, Inc. as the Default Seller on Amazon.com. Automate and no more manually switching sellers to Amazon needed, which may even help avoid accidental purchases from third parties! For example, see this warning from Apple in ABC News, as recently as 10/'16.
And from manufacturers directly, like this official Samsung comment to an affected Amazon review.

It's also so Amazonly Easy To Use™! Just install it and off you go easily shopping from official Amazon, always.*

Moreover, whenever you change your mind and decide to purchase from third parties, you can do so easily: this extension gives you the option to disable the automation on specified/all pages--so you're always in complete control. Simply click on this extension's icon next to the address bar while you're on an Amazon.com page to access the menu.
starBeta Status Disclosure

*Please note: Loyal Smile is still in beta. Although most functions work as they should, it may not work completely all the time.
Then again, that's why controls to disable it are easily available as mentioned, built-in.
Further, I'm available to respond to your complaints and bug reports via this extension's "Support" tab or email.
In addition, here's my current TO-DO list for known problems and goals (as well as version change logs).
Legal Notices
Loyal Smile™ is not affiliated with Amazon.com, Inc. Amazon™ and the Amazon logo are trademarks of Amazon.com, Inc. or its affiliates.
Google Chrome™ is a trademark of Google Inc. Use of this trademark is subject to Google Permissions.
Loyal Smile, its logo, and its slogan are trademarks of UNIoSOFT™.